Teresa Lynn Butler disappeared from her home on January 25, 2006. A video camera, play station with games, digital camera, car stereo, Teresa's purse and cell phone are missing, also. Her boys were found in the morning hours of January 25, home alone by their father after he came home from work. There was no forced entry but the missing items and no sightings or communication with Teresa since her disappearance make this case very suspicious. If you or anyone you know, thinks that you have seen Teresa or has information about her disappearance or the missing items, PLEASE contact the New Madrid County Sheriff's office at 573-748-2516.
Someone somewhere knows something. If you do, please call Sheriff Terry Stevens at 573-748-2516 or the MO State Highway Patrol at 573-840-9500.

You can make copies of Teresa's missing poster to distribute in your area. Here is the link for her poster at the National Center Missing Adults website.
There is now a Myspace profile for Teresa. I encourage all who read this page to go there and add her to your friends list if you use Myspace. It is my hope that her face will make it all the way around the world. We are doing pretty good getting friends, most of which are also pages featuring missing persons. Add those pages, too. The more friends these missing person's profiles has, the more people will see their faces and you never know where the next tip might come from. Here is the link for Teresa's myspace profile.

Teresa Butler-photo edited by BrandonB from GA
Teresa is 5ft. 7 in. & weighs approx. 110 lbs. She has dark brown/black hair and brown eyes.
The picture below was taken in Modesto, CA, at the Vigil of Hope, sponsored by the Carole Sund/Carrington Memorial Foundation, on March 11, 2006. In the picture you will see Sharon Roche holding a poster of Mary Lee Grobe, a missing woman also from the bootheel area. Holding the picture of Teresa Butler is Mary Grobe's daughter, Joyce Caldwell. I am so thankful that Joyce Caldwell also took along a missing poster of Teresa.
Photo courtesy of Jackie Harder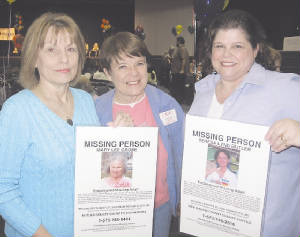 L-R--Sharon Roche (Laci Peterson's mother), Carole Carrington, and Joyce Caldwell.
Teresa's parents and sons.
Teresa's parents, Donald and Linda Buchanan, find comfort spending time with Teresa's sons.